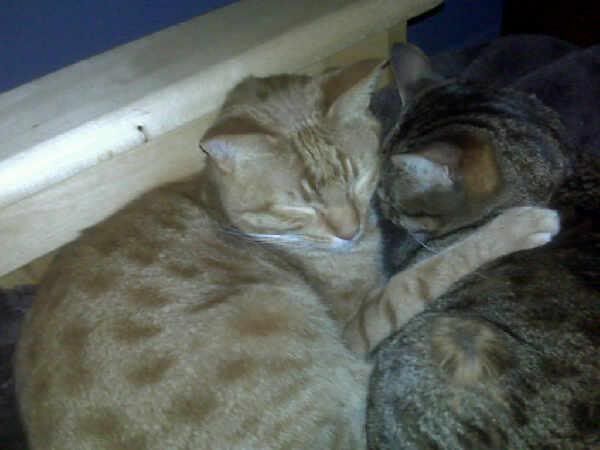 your pets aren't them
My kitties are rather unique in that, to everyone else, they are the cutest, most adorable cats to grace the breath of creation. (This is true.) However, when I am inserted into the mix, things get strange.
For instance, these two cats can purr louder than a small-block V8, which is fun but not so strange. It's what gets them purring the loudest that is strange: mistreatment from me.
These two cats love being flipped around, tugged at, patted repeatedly in the same spot, blown on, and just generally messed with, as long as I'm doing it -- they will purr uncontrollably.
I seem to have this effect on Sassy in the mornings too. She wakes up in a bright, happy, amazing world each and every morning. I'd love to be inside her mind. Sometimes I wonder if the world resets for her, daily.
See, I wake up and have to fight through the haze and headaches from medications. Perpetual cotton-mouth combines with pressure in my temples to make me a real pleasant bastich. I come into the bathroom, and that's when the purring-abuse cycle evinced by my cats transpires.
we're seriously very cute
Sassy comes ready-armed with like six conversations geared up for unleashing. Kid is geared up for grunts, moans, and swear words. (There's an art to doing this amusingly.) So Sassy will stand in the bathroom while I shower and chatter endlessly about this and that -- some real great conversation, pleasant shit, I'm just not awake enough to add to it, really. So I do what I can: I make fun of each topic; I call her all sorts of silly names; I grunt dismissal when I don't understand what she just said; and when she tries to hug me and I'm in my towel and working on limping to the closet to do something about that, well let's just say she isn't getting pleasant hugs from me.
And I tell you: she purrs. Her smile is like someone stuffed snow in her mouth or something. She tells me all sorts of things real excitedly, with much animation and gestures, like my grunts and all that are such great encouragement for her to continue -- which, I must say, they are, but it's odd that it should be so.
This ends up working out real great for us. I'd really like to know why my grumpy abusiveness is so adorable to ladies and kitties though. Rhetorically speaking.